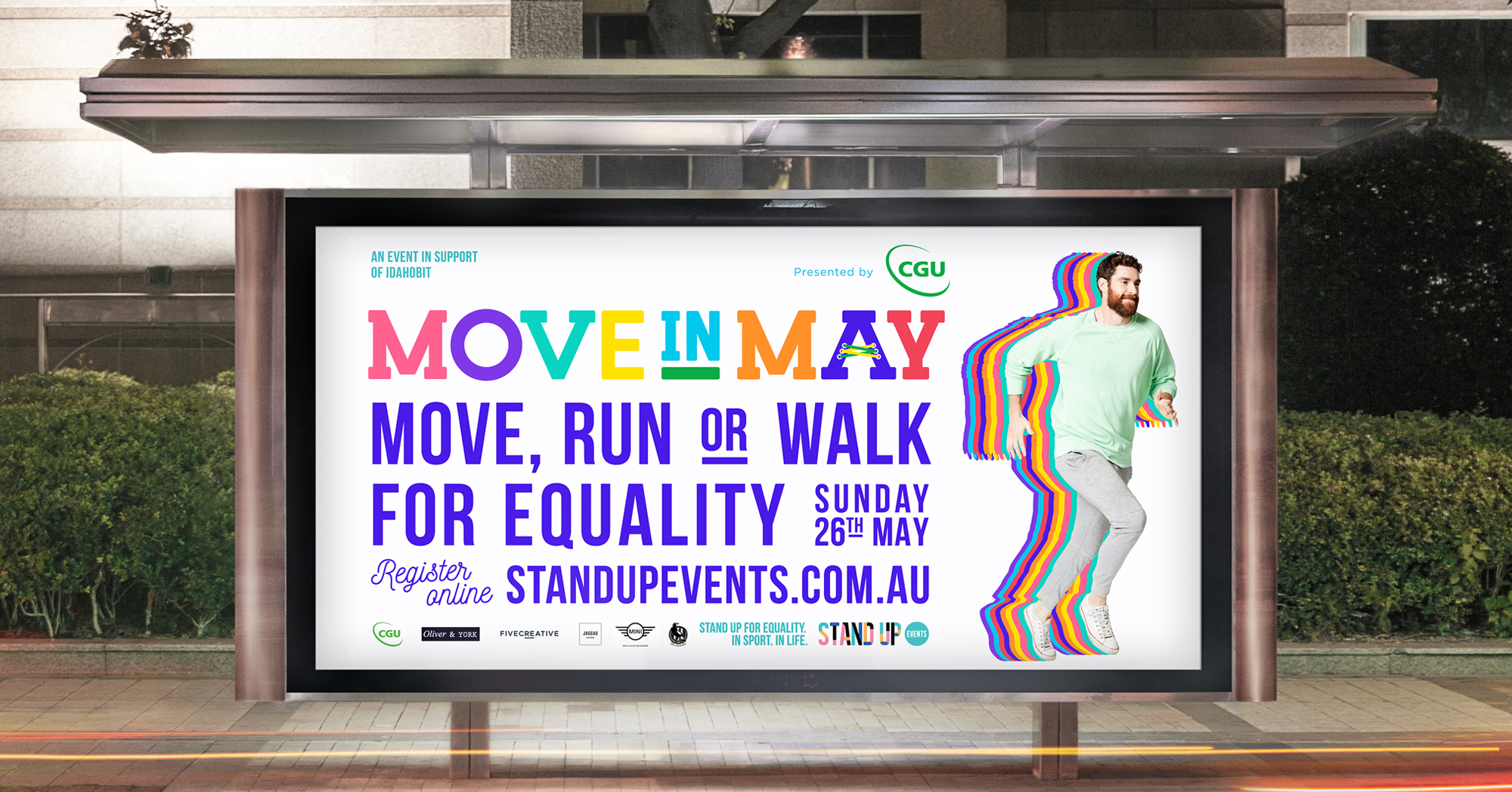 CGU Move IN May Recap
CGU Move in May is an annual community 'fun run or walk' event for anyone that believes in equality – regardless of their sexuality and/or gender – and is a celebration in support of the International Day Against Homophobia and Transphobia (IDAHOBIT).
The event was started by Angie Greene and her non-for-profit organisation, Stand Up Events. Dedicated to challenging discrimination against the non-hetero and gender diverse community on both the sporting field and in life, Angie and members of her immediate family have been both faces and voices of the 'Yes' campaign and a recognised "Straight Ally" to the LGBITQ community. As of early 2019 the organisation has been given DGR (Deductible Gift Recipient) status.
Profits raised from CGU Move IN May go directly towards supporting Stand Up Events Preventative Programs, in partnership with Monash University. The programs are delivered, with support from current AFL players to help eradicate homophobic language and behaviour from grass-root sporting clubs within the community.
Creative Partnership
2019 marked the 4th year running of Five Creative and Stand Up Events creative partnership. We have proudly sponsored 100% of our time and services completely  – with the firm belief that our contribution can play a pivotal role in helping this young organisation communicate and grow their brand and programs within our community.
Creative Campaign
In an effort to entice both previous participants back to the event and engage with new followers, for 2019 we upped the creativity and with a little help from some AFL sport stars and a world-class fashion photographer, produced a new campaign titled "For All The Things That Make Equality".
Fashion Photographer, Tintin Hedberg, generously donated her time and skill and pulled together some enormous favours to produce a photoshoot within a week of briefing and shot over one afternoon in April. Professional Sports Ambassadors for the Stand Up Events donated their time and faces for the campaign, which included Joe Daniher (Essendon FC), Jordan Roughead (Collingwood FC), Ben Brown (North Melbourne FC) and Tyson Goldsack (Collingwood FC). As well a number of non-sports people and children.
Inspired by a personal childhood experience from the Melbourne Scienceworks Museum 1994 'Special Effects' exhibition, we produced a series of inter-connecting and flowing illustrations and animations incorporating the event's vibrant rainbow colour palette. With the idea revolving around the forward 'movement' for an equal future that is an inclusive and open environment for people to play sports regardless of their gender and sexuality.
The campaign was rolled out across Melbourne on Metro Trains, MCG Billboards and other print and digital marketing.
A massive  thank you to Tintin Hedberg, Angie Greene, the Mum's, the Kids, Kate, Brooke, the AFL players – for helping us pull this together with such short turn-around.